source
Put two of Hollywood's coolest characters in a room together and sparks are bound to fly. That's exactly what happened when we tasked
rockstar
/actress Juliette Lewis to have a 'deep and meaningful' with her friend Kristen Stewart, one of the few young actresses working successfully across Hollywood blockbusters, high fashion and
cultish
Indie movies today.
The results were predictably unpredictable with Lewis accusing Stewart, 20-years her junior of being 'a scrapper' and able to 'throw a punch', Stewart
admitting
she has 'no rhythm' but wishing she could 'tear sh*t up on the dance floor' and the pair discussing everything from the perils of social media, to telling autograph hunters to 'f-off' and maintaining true friends despite the pressures of fame.
Lewis calls comedian Amy Shumer her mentor, while Stewart describes meeting Patti Smith when she was in a 'f**ked place' emotionally and how
the older
musician's advice has proved invaluable.
She also addresses those
rumours
about her bitchy resting
face
.
------------
In a worldwide exclusive ELLEUK invited Kristen Stewart's great friend the actress, singer and cult icon Juliette Lewis to interview her and share their intimate conversation.
The pair discuss the pressures of celebrity, feminism and the film industry today and share the parallels of their life experiences; from growing up with showbiz parents in Hollywood, to going out with a leading man and eventually rejecting the expectations placed on female stars, to carve a smart, nuanced career for themselves.
Kristen also reveals that Patti Smith is her mentor after she was approached by her at a club in New York when she was 'in a f**cked up
place
'. She told Juliette:
"[Patti] was like, 'I just want you to know that
your
people care about you, that we're here for you, and I'm your people.' And we kind of stayed in contact. Then I was in New York again and she walked up to me at another after-party – it had been a long time since we'd talked – and she said, 'It's a full moon tonight and I heard that you were in town, so I came out to find you and here you are!' And I was like, 'You
've got
to stop saying the coolest things ever!'"
She also addresses those 'bitchy resting face
rumours
':
"The whole smiling thing is weird because I actually smile a lot. I literally want to be like, 'Dude, you would think I was cool if you got to know me'."
Juliette Lewis on Kristen Stewart:
"You're the female James Dean
…
But actually you're a little bit rougher. I think you're a scrapper. I think you can throw a punch."
On social media:
"I'm not anti social media. I just haven't decided to do it. The idea of addressing such a massive group… If I don't know who I'm talking to it doesn't make any fucking sense to me."
On feminism:

 JL: "My mentor is Amy Schumer. She's
like '
Girls need to quit saying sorry so much."

KS: "I
apologise
constantly, incessantly... There's something so natural about saying yes I think with
women there's
a natural inclination to want to satisfy people."
Video
Preview
Screencaps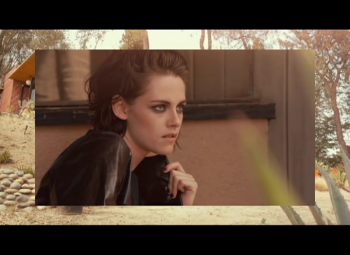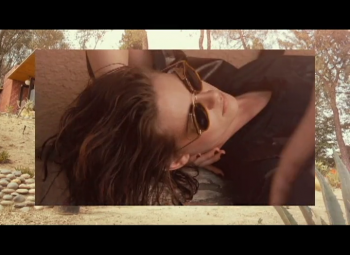 BTS Pictures